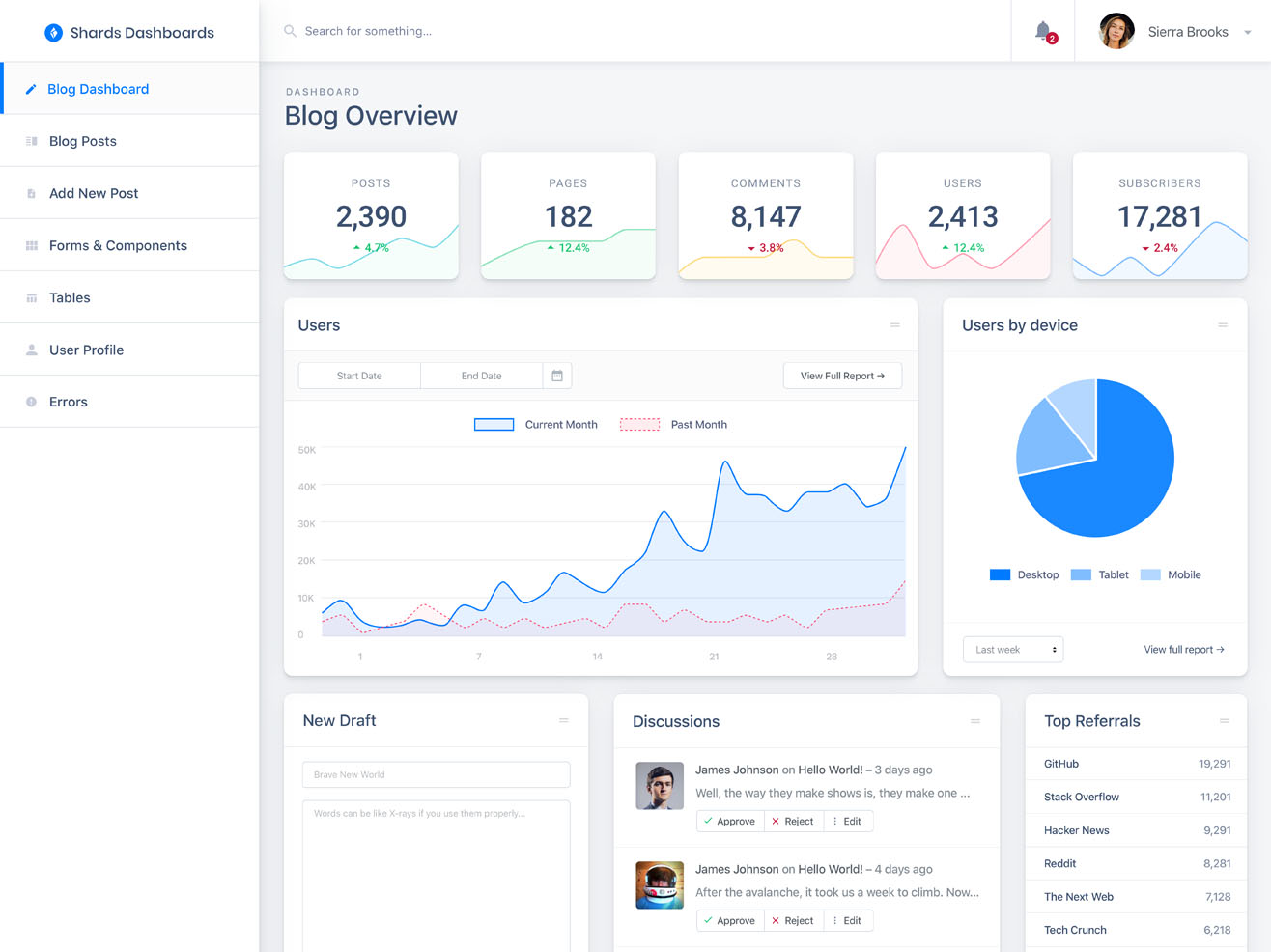 A high-quality & free Bootstrap admin dashboard template pack that comes with lots of templates and components.
Requires : Bootstrap 4.1.3
Version : 1.1.0
Last Update : 17 September 2018
License : MIT
Fully Responsive
Based on Bootstrap 4, Shards Dashboard Lite is fully responsive and capable to adapt its layout to any viewport size.
Lightweight
We followed the same practices when building Shards Dashboard Lite as the original Shards UI kit. This means that performance is excellent by adding a thin layer that's only ~4kb mingz.
Well Documented
Fully documented components and features were one of the key points when building Shards Dashboard Lite so that you can focus on building your ideal product with ease.
Components & Templates
Shards Dashboard Lite comes packed with dozens of custom components and admin dashboard templates that you can use to kick-start your app.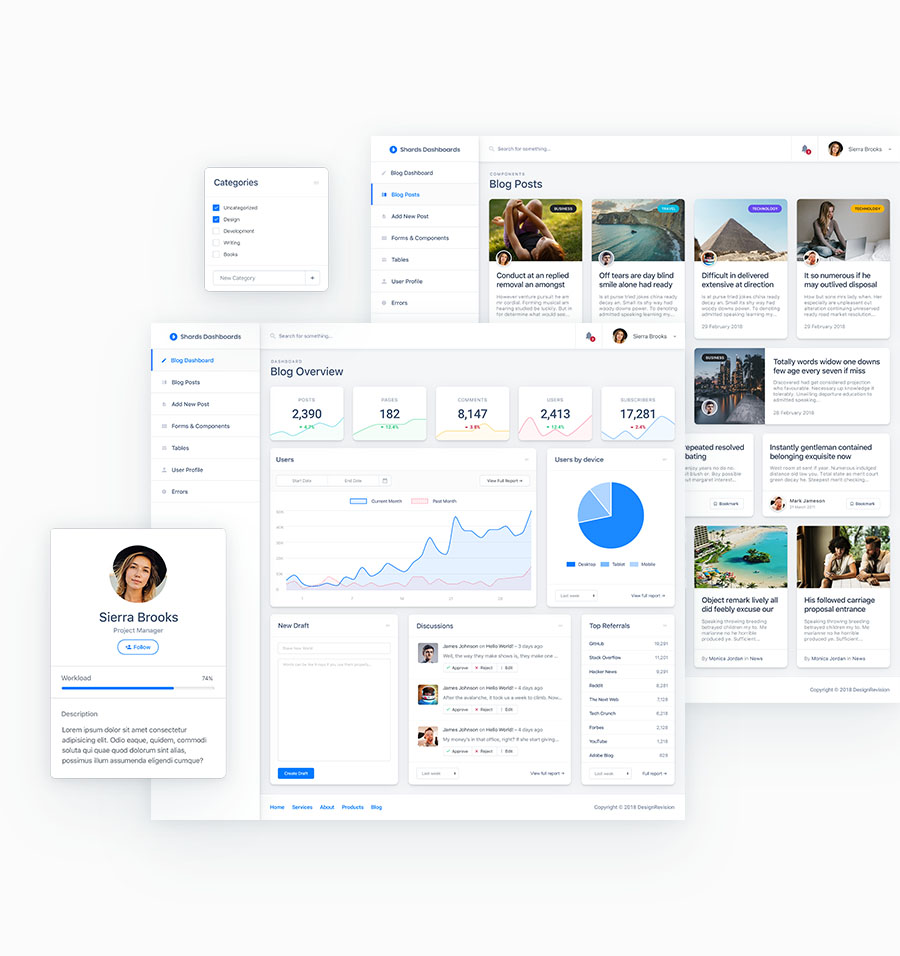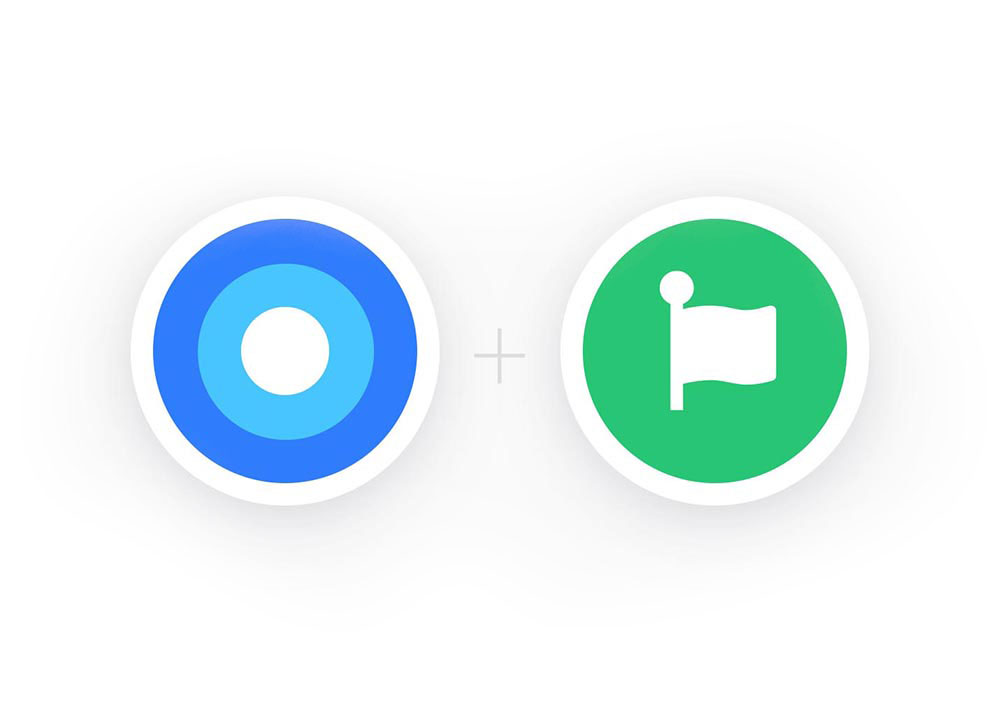 Icon Packs
We made sure you can find the perfect icons for your app so we added the option to pick from more than 1500+ supported icons from both FontAwesome and Material icon packs.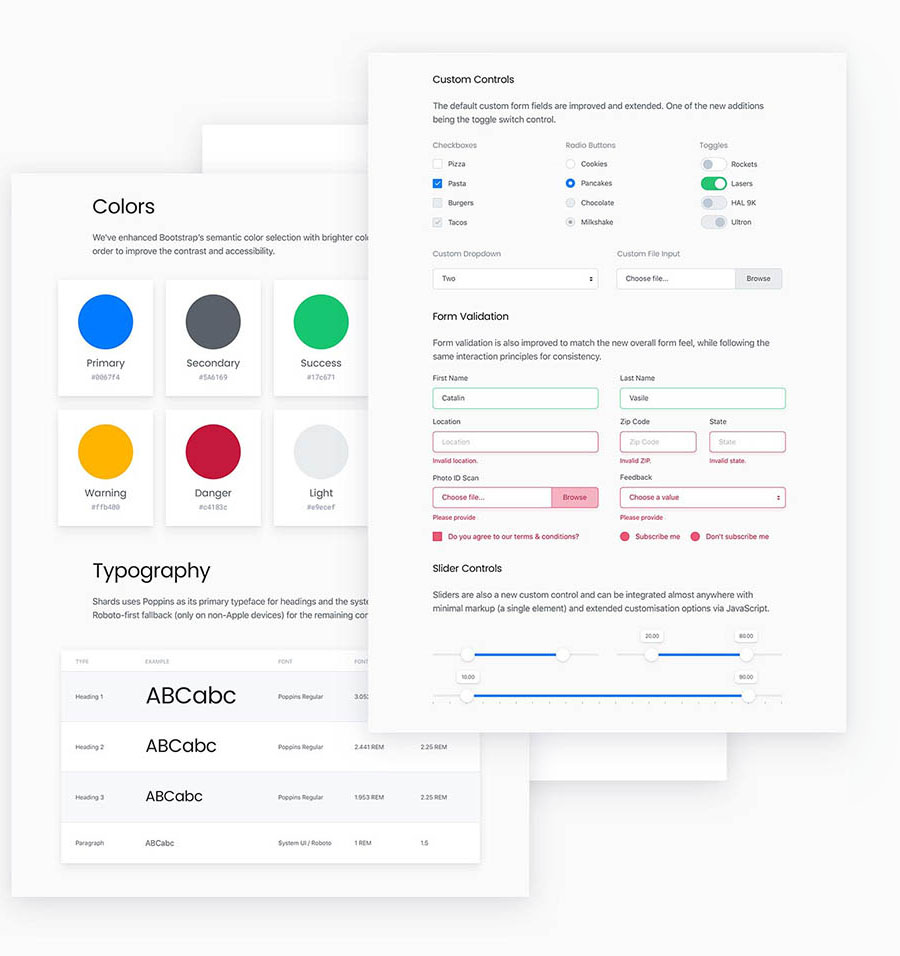 Modern Design System
Stop focusing on the minor details! With Shards at its core, everything is designed and hand-crafted from scratch to look and integrate flawlessly, so you can focus on functionality rather than on how things look.
Source Files
Looking to get your hands dirty? That's great! We've included both SCSS and Sketch files so you can tailor the admin dashboard template pack to your own needs.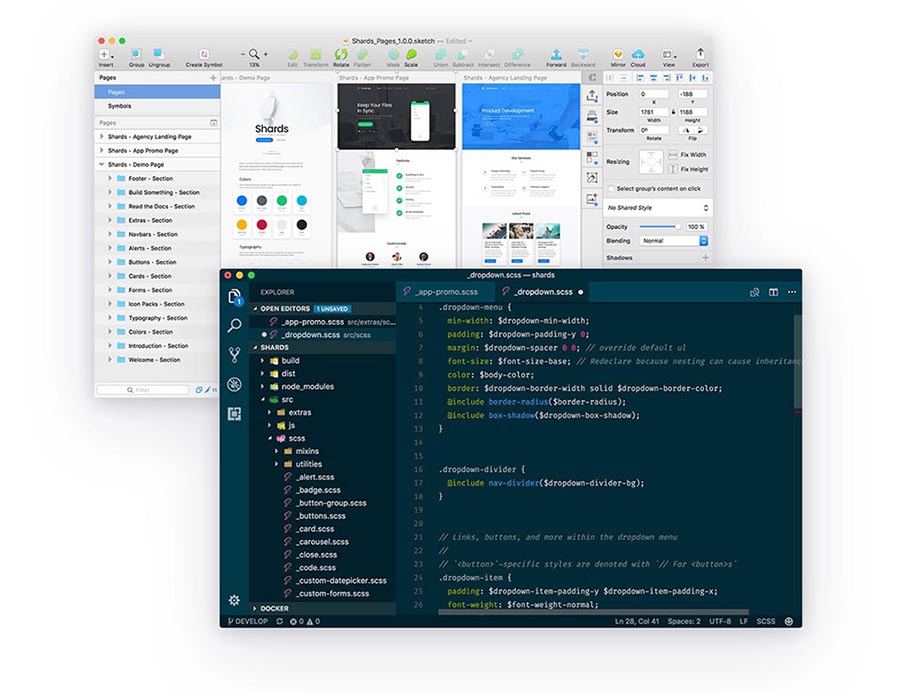 Looking for something more?
Then you should check out the Pro version!
Lite
Free
Forever
Dashboard Templates
Blog Overview
Analytics Overview
Store Overview
Page Templates
Basic Components
Blog Posts Components
Add New Post
User Profile (Lite)
Tables Overview
Error Template
Transaction History
File Manager (List)
File Manager (Cards)
User Profile
Edit User Profile
Login
Register
Forgot Password
Change Password
Layout Styles
Default Sidebar
Icon Sidebar
Top Header Navigation
Plugins Support
(Basic) Chart.js
Bootstrap Datepicker
NoUiSlider
Quill
DataTables
Dropzone.js
Bootstrap TagsInput
General
Extra Colors
Extra Components
Improved Chart.js elements
Premium Support
Pro
Starting From
Dashboard Templates
Analytics Overview
Store Overview
Blog Overview
Page Templates
Basic Components
Blog Posts Components
Add New Post
Tables Overview
Transaction History
File Manager (List)
File Manager (Cards)
User Profile (Pro)
User Profile (Lite)
Edit User Profile
Login
Register
Forgot Password
Change Password
Error Template
Layout Styles
Default Sidebar
Icon Sidebar Nav
Top Header Nav
Plugins Support
(Improved) Chart.js
DataTables
Dropzone.js
Bootstrap TagsInput
Bootstrap Datepicker
NoUiSlider
Quill
General
Extra Colors
Extra Components
Premium Support
1 Year of Updates